THE WEDDING FILM PACKAGE DETAILS:
Here at EJOROMEDIA, we don't just take the footage from your wedding and stick it together into a simple video. We take the time to really showcase an enjoyable video that shows the love, laughter, and tears that were expressed and shared during your day. We want to know every little detail about whats going to happen on your day so we don't miss a thing. It could be custom made socks, flasks, or cuff links for the Groom and his buddies. It could be robes, bracelets, or jewelry that was handed down by your grandmother. Or it could be a traditional event that happens before your wedding rehearsal. No matter what it may be, we try to capture all that you are and all that you will be. This is THE WEDDING FILM.
2 VIDEOGRAPHERS
You'll have 2 of us ready to roll with you + multiple cameras
COVERAGE
We'll be with you through all of your events from Rehearsal to Reception! No need to specify hours because everyones wedding timeline is different!
VIDEO DETAILS
Full Feature Film ( 30min - 1hr)
Vows, Speeches, Main Events, Traditional Events
Full HD 1920 x 1080 / 4K
Video Download Link Provided
Obtain RAW Footage (Optional)
FREE Web Page for your Film - VIEW SAMPLE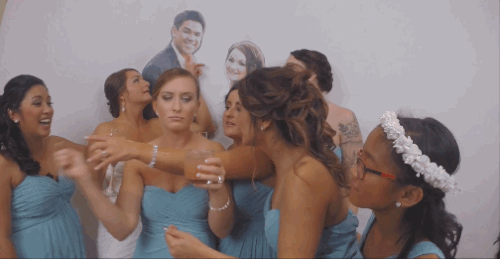 Our VIDEOBOOTH is a great addition to any wedding video which will let your guests leave messages for you! Those awesome messages will then be included in your wedding video for you to enjoy!
We also provide an almost life sized cutout of you and your partner for your guests to have fun with. Sometimes you can't take pictures with everyone so your guests grab the cutout and do it themselves!
DVDS
Available upon request.
PREPARED
Not only do we film your wedding but we also help out while you're getting ready. We're not just vendors but we're regular people too. We have bluetooth speakers, scissors, a sewing kit, walkie talkies...you name it =) We want your day to be as stress free as possible so we come prepared just in case!
TURNAROUND TIME
We don't like to let our clients wait 6 months to a year to get their Wedding Film so we we work diligently with quality as a top priority. Plan on getting your product within 3 to 6 weeks!
TOTAL PRICE - $4,300
WITHOUT VIDEOBOOTH - $4,000
All that we require is a $500 downpayment and the rest can come within a week before your wedding! We accept all forms of payment. Credit cards will be subject to a 2.9% fee.
PHOTO + VIDEOBOOTH
ADD $300